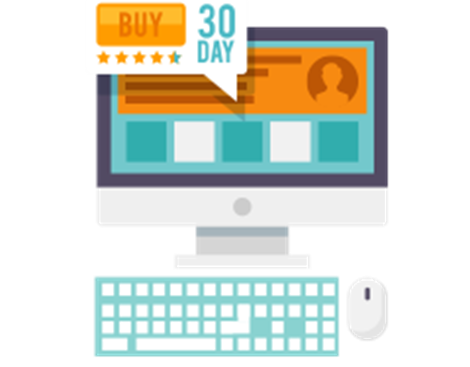 Our campaign strategies are designed to meet the needs of our clients and their market condition. We provide up-to-date, Pay Per Click services that include: Paid Search Ads, Video Advertising, Display Ads, PPC Remarketing and Social Advertising.
At Floodcast, we are so passionate about what we do, because we can truly impact our client's businesses positively - one click at a time. To get the most out of your campaigns, we create compelling ad copy (aligned with your brand voice in mind) that combines the right keywords. We can even help design landing pages (or entire websites) to give an overall site experience to produce sales.
With Floodcast, you don't get the "agency spin." We are transparent in the way we communicate, and it shows in our work. You have a right to know what's going on in your PPC campaign and since we do great work, we have nothing to hide. Unlike most agencies, we optimize our clients account weekly. So what can you expect with Floodcast as your agency?
Initial service onboarding call

Campaign build out & management

Weekly optimizations & management

Weekly/Bi-weekly/Monthly check-in's

Customized weekly/monthly reports
We work with you to create an actionable plan, prioritize those items, and then implement and execute on those. Most agencies will give you a list of items and turn you lose to complete it - as if you have the time or experience. At Floodcast, we not only help in creating that plan but work to knock off those items on that checklist as well. 
Not only do we specialize in Google Ads marketing, but also Microsoft Advertising (formerly Bing Advertising), as well as paid marketing for social media advertising. When we have our initial onboarding call, your specialist will talk with you on which advertising mediums will be best to use for your business. It's always best to have a PPC Management Service provider handling your accounts, because you'll get the best results by having an expert PPC specialist monitoring the campaigns.
We are data-driven junkies at heart, and we base our recommendations and next steps off the data that we gather. Having this data gives us insights to optimize the accounts to ultimately convert more people.
When it comes to the types of pay-per-click (PPC) marketing that Fyin offers, it includes the following:
Google Ads

Google Ads is a paid search marketing tactic used to increase branding and  awareness, rank higher on Google SERP, increase website traffic, and ultimately get people to convert more.

Microsoft Advertising

Microsoft Advertising is another paid search marketing tactic. This is a great platform to use if you have an older demographic audience, or want to target people based on their company, industry, or job function.

Paid Social Media Ads

There are certain services where running paid social media ads would be highly relevant. Whether or not you have social media accounts set up already or don't, we can help you get started running a social media campaign to increase sales and revenue for your business.
Fyin will work with you to determine which services would be best to utilize for your business, as well as the type of social media platforms. Our PPC specialists will also work with you to determine the types of content we will help promote for you each month on those social media platforms.